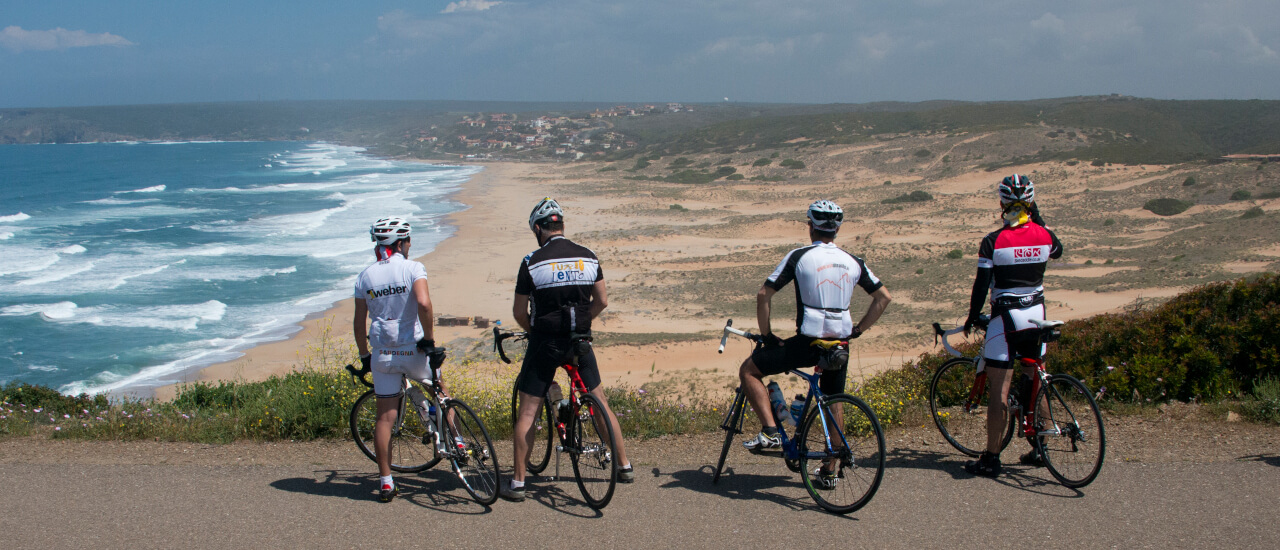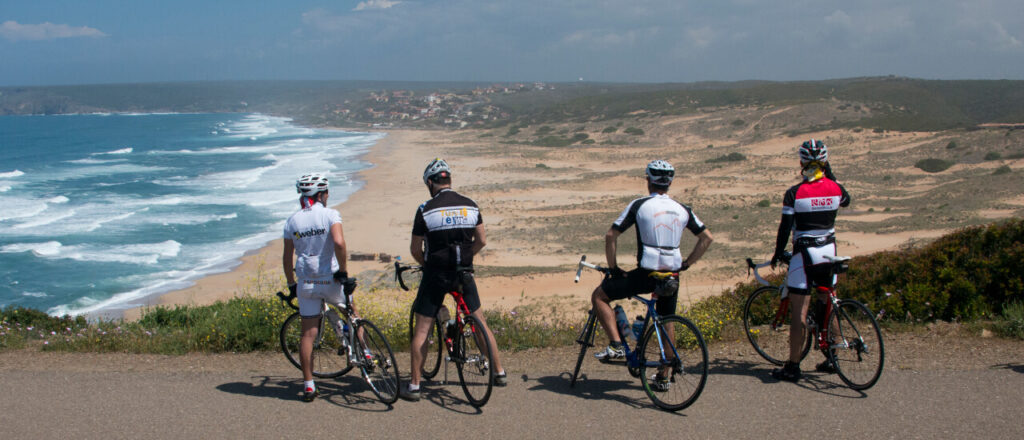 The Green Coast
A nice ride discovering the south west coast of Sardinia: the Costa Verde. Forget the big tourist resorts, this area of Sardinia is still totally intact and keeps the marks of the mining economy, flourishing until a few decades ago. In the second part of the tour we will ride in the two islands, San Pietro and Sant'Antioco, with their fishing traditions, and in the fabulous South Coast, famous for its beaches. The last evening we'll be in Cagliari for a shopping session and the celebration dinner.
Highlights
---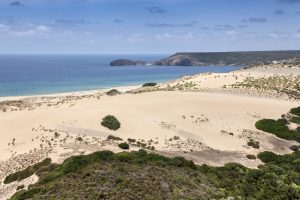 The dune of Piscinas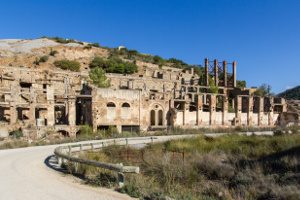 The Sulcis mines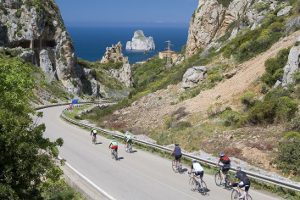 Sea view downhills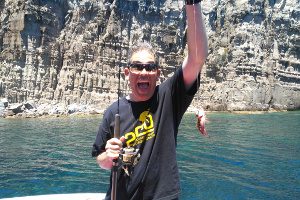 Carloforte and Tuna fishing
Day to Day
B: Breakfast; L: Lunch; D: Dinner;

| | | | |
| --- | --- | --- | --- |
| 1 | Arrival and Warm up | 20 km | D |
| 2 | From Torre dei Corsari to Buggerru | 67/60 km | B D |
| 3 | From Buggerru to Sant'Antioco | 65 km | B D |
| 4 | Loop of Carloforte and Sant'antioco | 60 km | B |
| 5 | From San'Antioco to Teulada | 40 km | B D |
| 6 | From Porto Pino to Pula and Cagliari | 60 km | B D |
| 7 | Arrivederci! | | B |
Tour Map
---
Day 1: Benvenuti!
Tour briefing, bike fitting and warm up ride
We can warm up and test bikes in the afternoon going to discover fishermen village of Marceddì and fertile Sinis peninsula.
Overnight:
Torre dei Corsari
Included:
Dinner
---
Day 2: From Torre dei Corsari to Buggerru
The mines of Sulcis Heritage of Humanity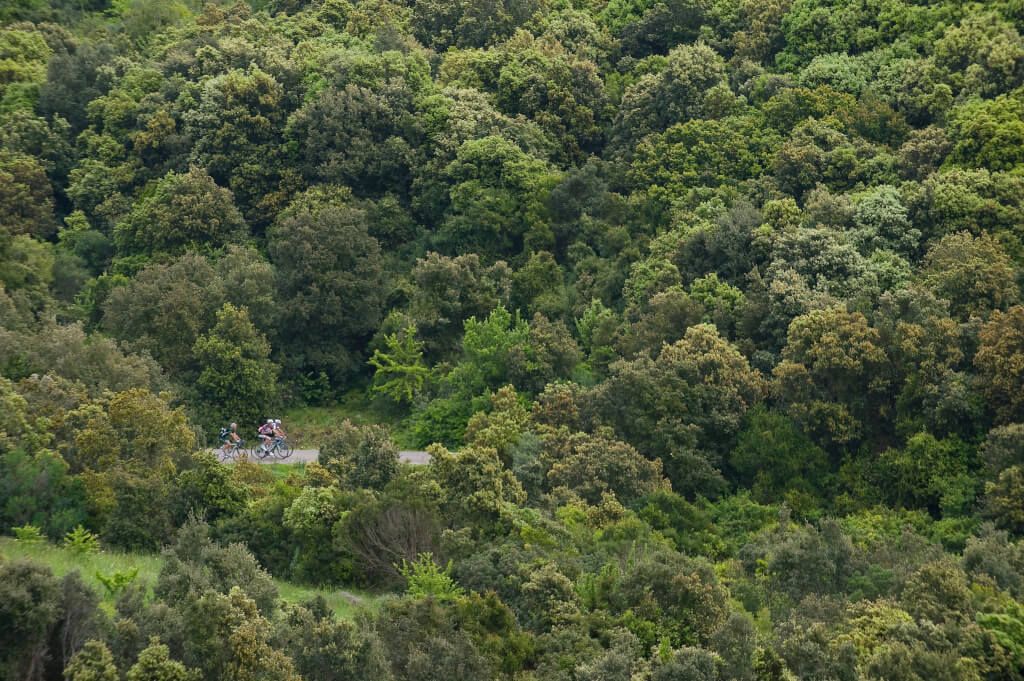 Nice and scenic ride through the Sardinia mining history. We leave Torre dei Corsari to climb toward the "phantom" village of Montevecchio, an UNESCO Geo-Park. Here you can feel the history of this area of Sardinia. Then you'll pedal gently till the Passo Bidderdi where a fantastic downhill bring you to the mine village of Buggerru.
Overnight:
Buggerru
Included:
Dinner
---
Day 3: From Buggerru to Sant'Antioco
Old rural villages and vineyard of Carignano grape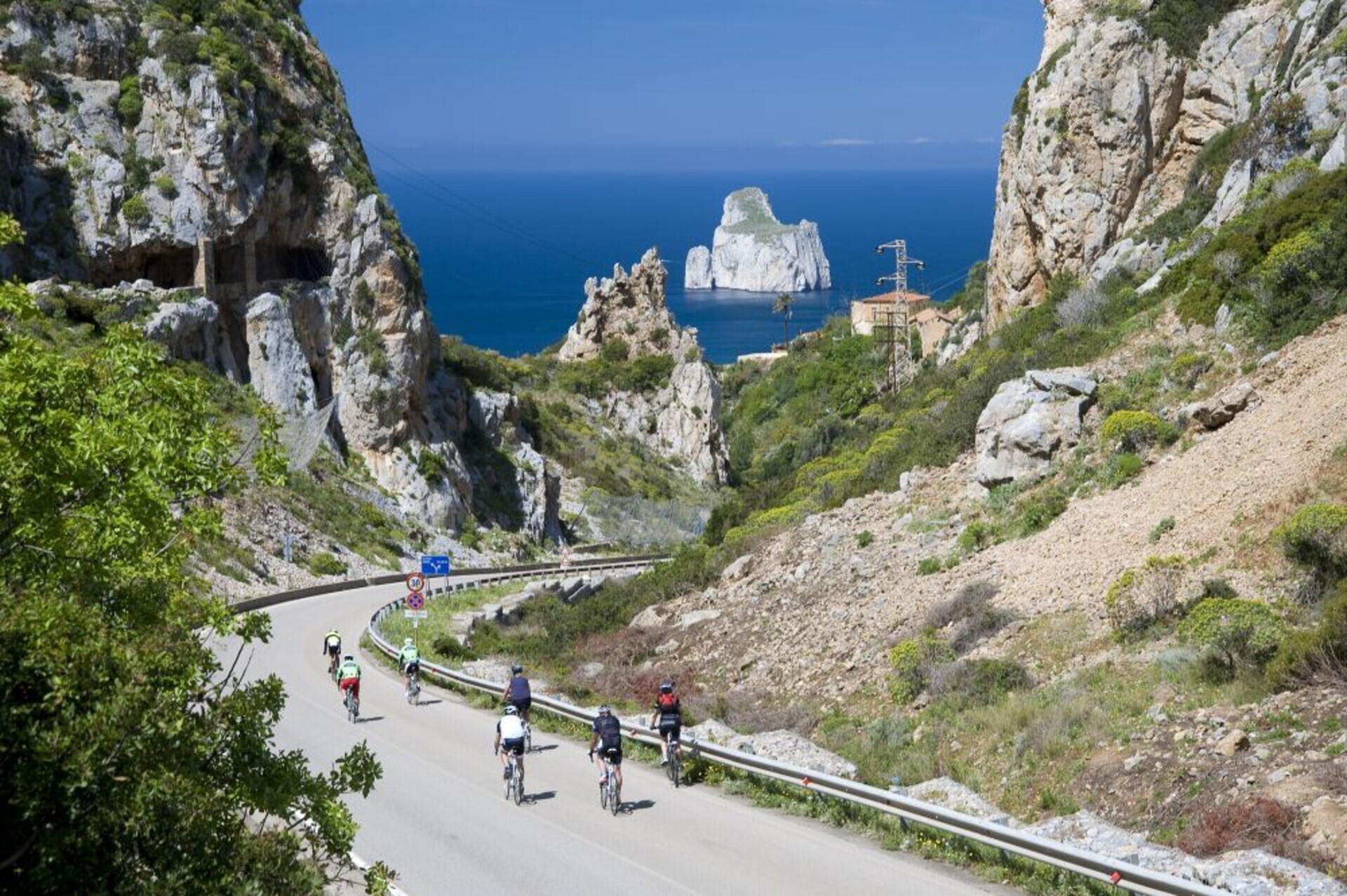 Big climb today as a day start... But then, 2 beautiful downhills with sea view till the beach of Funtanamare are waiting for you. We'll reach then the village of Portoscuso for an Ice Cream and then 25 km of a flat road to reach the island of Sant'Antioco, connected to Sardinia main land by a bridge since the Roman Empire epoc. The downtown of this pretty fisherman village, rich of traditions, will be the place of our dinner.
Overnight:
Sant'Antioco
Included:
Breakfast Dinner
---
Day 4: The loop of 2 islands
Discover the multicultural heritage of Carloforte island
Today we'll spend our rides discovering the 2 islands of south Sardinia. We'll start with the loop of San Pietro island, then, after 30 minutes by ferry, we'll ride the loop of Sant'Antioco island, our final destination for today.
Overnight:
Sant'Antioco
Included:
Breakfast
---
Day 5: From Sant'Antioco to Teulada - Sulcis countryside
Old rural villages and vineyard of Carignano grape
We leave Sant'Antioco island along the salt works, dotted by pink flamingos. After a stop in the picturesque village of Tratalias vecchia, built around the beautiful Romanesque Cathedral of Santa Maria, we'll cross the Sulcis countryside through artichokes fields and Carignano vineyards. The riding day ends in Teulada in a Agriturismo (holiday farm) where we'll have the chance to taste the typical Sardinian Dinner.
Overnight:
Teulada
Included:
Breakfast
---
Day 6: The amazing Costa del Sud
The quintessential Mediterranean beauty
The last leg of our tour starts with a rolling part overlooking Capo Teulada shores, this is just a warm up which make you ready to face the highlight of your tour: the amazing Costa del Sud. It's a little bit challenging road, going up and down along the coast...a little pain for your muscles but a joy for your eyes. We end in Pula, a lively town and the perfect place to celebrating before the transfer to Cagliari for the final dinner downtown.
Overnight:
Cagliari
Included:
Breakfast
---
Day 7: Departure from Cagliari
Arrivederci Amici!
It's time to say goodbye, but we know our Island touched your heart and you want to be back in Sardinia with us!

Overnight:
Cagliari
Included:
Breakfast
---
Bikes
You can bring your own bike or rent one from us, we offer great bikes from selected Italian and international brands: road bikes, leisure cycling, mountain bikes, e-bikes, all in perfect working conditions. We'll find the best solution for you during the tour customization.
This is a Sample tour
These itineraries are original tours created for real guests, so you may want something different specifically designed to suit your own wishes.
The price of every tour is available upon requests, and varies by time of year, number of guests and level of guiding.
Start dreaming looking through it, then contact us and let's talk. We'll listen to your needs, we'll suggest ideas and propose experiences, and together we'll create your perfect voyage.
Create your custom-made trip