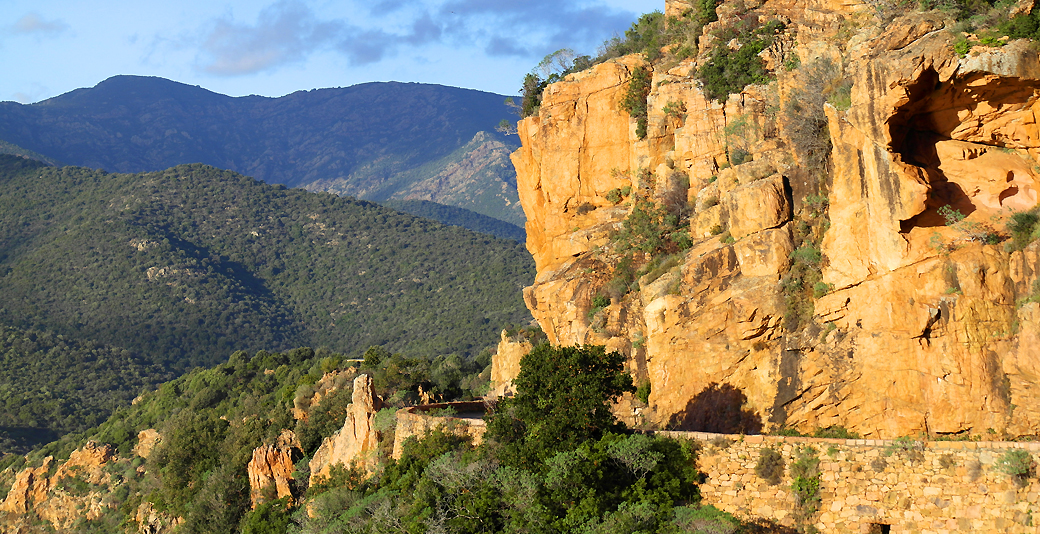 Cycling through all shades of Granite
Calvi coastline
As soon as we leave Calvi we are along a stunning coastal road backed up by white and pink huge granite boulders.
Below us small coves where sailing boats look like floating on a turquoise sea. After ten km we are tempted to climb to the Montserrat sanctuary…it's just an idea, after 50 meters we forget about it, it's a short but at least 20% gradient climb. Well done, we need energy to face the following 25 km…it reminds the Paris Roubaix, just immersed on the deep green of Corsican Maquis.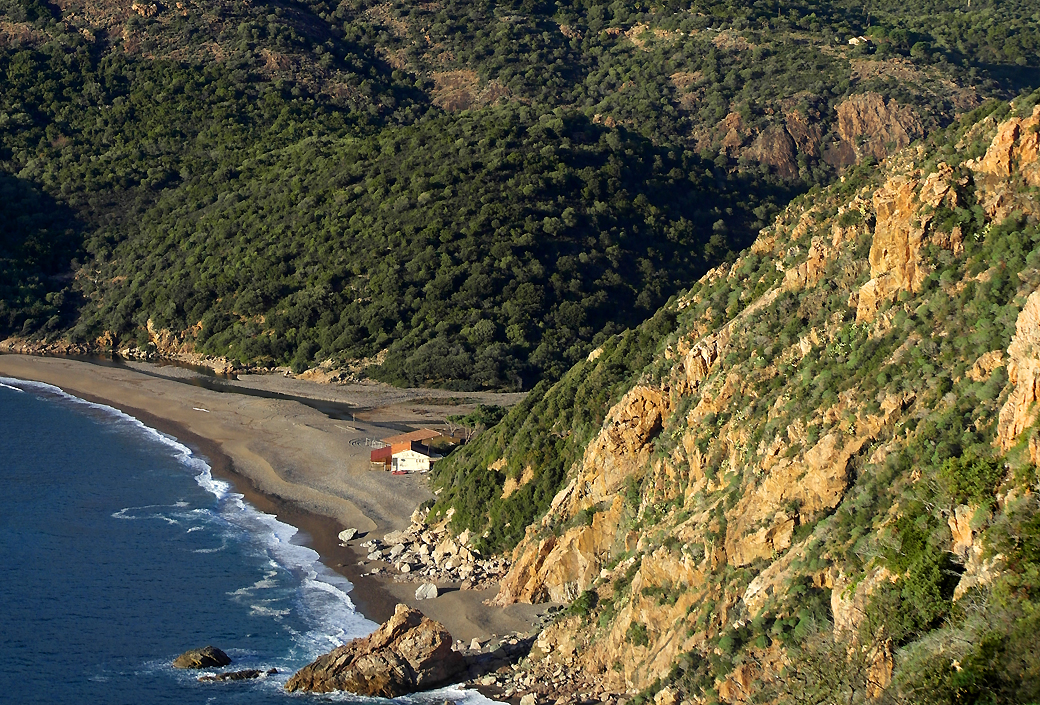 Galeria black beach
The bad stretch of road ends just before Galeria, a neat village that deserves a detour, at least because we are not going to find anything to eat before Porto. Few houses, some small hotels and restaurant watching a peaceful black beach.
Back on main road we cross the bridge over Fango river, stopping right at the center of it to admire the almost alpine mountains in the distance. For the avid riders, there's a 15 km out and back along the river arriving at the foot of the mountains.
Climb to Col di Palmerella
Now it gets tough, we have the long yet gradual climb to the Col of Palmarella, actually very long climb 🙂 Well, at the top we rest with the view of Girolata and the bay of Scandola. Landscape is made out of an intense red granite embracing a very deep and blue sea. From now on it's mostly a never ending gentle downhill. If there's a place to experience the silence of Corsica may be it's right along this stretch of road, it almost wraps you up with a feeling of immensity.

Arrival to Porto
After crossing the two small villages of Curzo and Partinello just before Porto, the road has become an asphalt strip carved on the cliffs above a moving ocean. Very close to Porto, down there we spot the iconic quadrangular Genoan tower, patrolling the far horizon. The sunset from here is really something, a reason itself for the trip.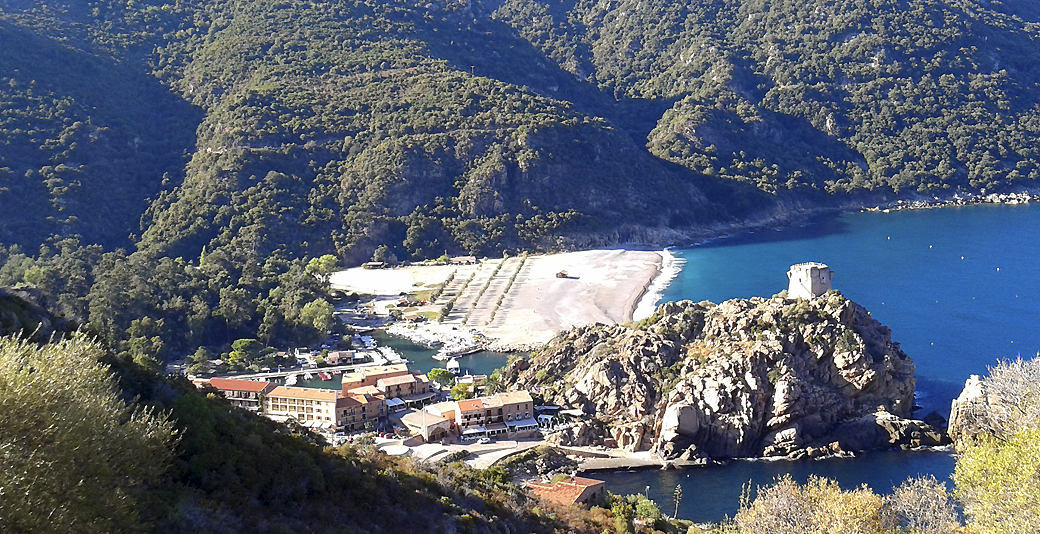 Another great day along The Mediterranean Ride, our epic journey across Corsica, Sardinia and Sicily.
Related Tours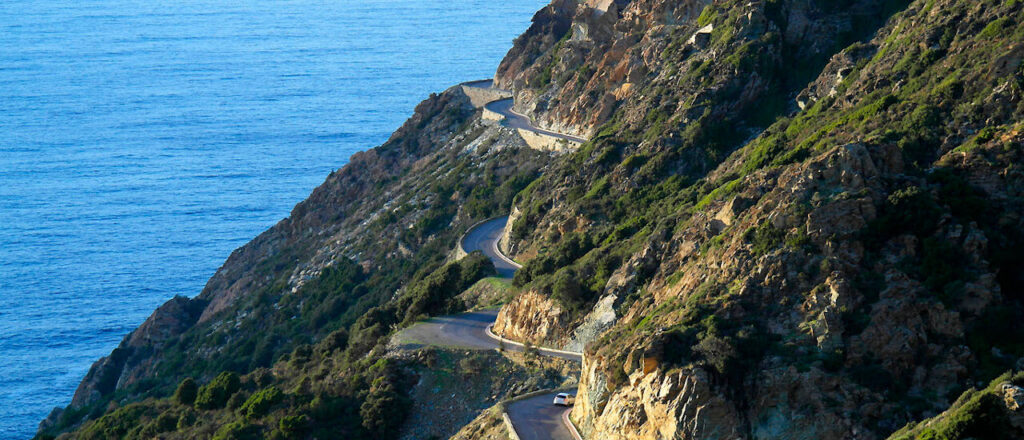 Corsica Cape to Cape
| Cycling | Active | Premiere | Point-to-point |
The whole natural beauty of Corsica during a glorious cycling week. Starting from Bastia we'll cruise to the extreme North, then we'll pedal counter clock wise, staying by the ocean all way down, capturing the best ever views you could imagine.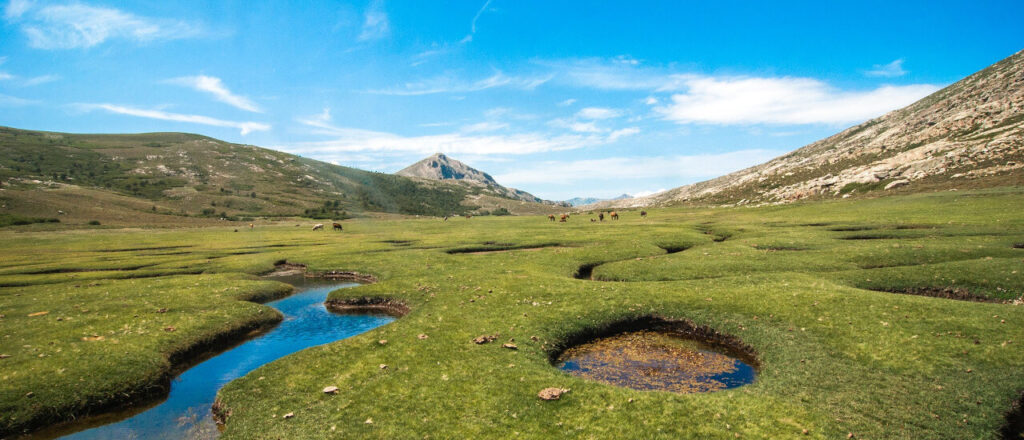 Wild Corsica
| Hiking | Active | Premiere | Point-to-point |
This tour shows the wild beauty of Corsica during a glorious week. Starting from Bastia you'll cruise to the extreme North, then you'll cross inland driving immersed in majestic mountain landscapes, getting back to the Med in the east coast and capturing the best ever views you could imagine.