Is Sicily a good spot for cycling?
Cycling in Sicily is an unforgettable experience that leaves a lasting impression. The memories of the bike tour in Sicily stay with you and you'll find yourself sharing them with others. As you touch down in either Palermo or Catania, the excitement of the stories, sights, and flavors that await you is palpable. After a brief transfer, you'll arrive at your first stop, such as Piazza Armerina, home to the renowned mosaics of the Villa Romana del Casale. Suddenly, you're immersed in the rich history and culture of Sicily. Your lodgings will likely be a beautifully restored ancestral villa that has been transformed into a hotel. With such incredible experiences in store, your cycling tour in Sicily is sure to exceed all expectations. You can explore below things by cycling in Sicily:
Sicily has best style of Italian cuisine.
Home to some of the world's best preserved examples of Greek and Roman temples.
Luxurious Beaches & Complex Wines
Rich Culture and Traditions
Beautiful Islands
Is Sicily safe for cycling?
Sicily has two highways, running along its southern and northern coasts, while other major roads connect vital cities like Ragusa and Agrigento. However, our cycling tour in Sicily will take us along the island's lesser-traveled roads – the smaller, winding paths that meander through the countryside, often bordered by the iconic dry stone walls. Along these roads, we'll encounter tiny villages, each with a charming central square adorned with breathtaking churches and palaces. The roads are generally sparsely trafficked and not conducive to high speeds, making for a leisurely ride. Though there may be a few challenging climbs, the reward of reaching a plateau and taking in the sweeping vistas before a thrilling descent will make it all worthwhile. Our Sicilian cycling tours are suitable for a range of bikes, from road to trekking, and even e-bikes, ensuring you get the most out of your cycling adventure in Sicily.
If you encounter any minor issues with your bicycle, rest assured that the warm hospitality of Mediterranean Sicily will come to your aid. Even in the smallest of towns, you'll easily find a friendly local eager to assist you. Additionally, the island boasts excellent 4G/5G mobile phone coverage, ensuring that you'll always be connected and able to seek help if needed.
Which regions of Sicily offer the most scenic cycling routes?
There are two main bicycle tours in Sicily. The first, perhaps the most beautiful and famous, is the Baroque cycling tour in the southeastern part of the island. The second, longer and suitable for road bikes and e-bikes, follows the entire coastline from Palermo to Marsala and Selinunte before continuing on to Agrigento and concluding in the Baroque cities of the first tour. Both tours can be combined with a spectacular extension to Mount Etna, the highest active volcano in Europe, where you can tackle one of the most iconic climbs of the Giro d'Italia.
Mediterras offers two self-guided bike tours: both are ready to book and fully customizable, allowing you to discover Sicily by bike in whichever way you prefer. Here they are:
Self-Guided Bike Tour in Sicily
---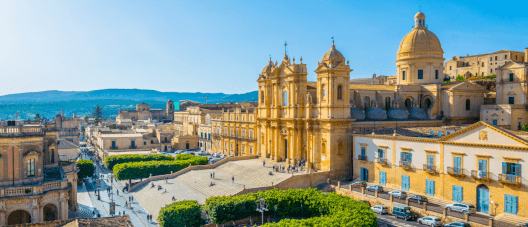 Sicily Baroque
| Cycling | Relax | 7days/6nights |
| Self-Guided | From € 1560 € 1200* |
Sicily is a treasure trove of history, cuisine, and culture, and this bike tour provides a comprehensive overview of the entire island. From your saddle, you will uncover Sicily's Roman past with the Villa del Casale and its exquisite mosaics; its Greek past with the island of Ortigia in Syracuse; the Baroque splendor of Noto and Ragusa; the ceramics of Caltagirone and the indulgent chocolate of Modica. In addition, Sicily's delectable pastries, cuisine, and wines will accompany you throughout your ride, adding to the overall sensory experience of exploring this captivating island.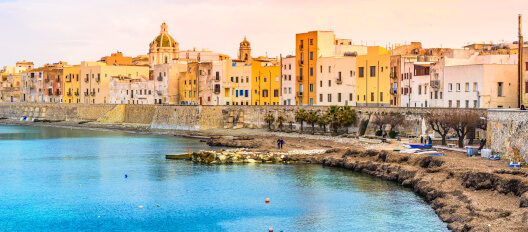 Bike across Sicily
| Cycling | Active | 11days/10nights |
| Self-Guided | From € 2370 € 1970* |
On our adventure across the whole Sicily we'll learn about the epic history of this colorful region. Starting from Palermo we'll cross the Arabic west, then we'll head south immersing ourselves in the Magna Graecia, ending with the triumph of Baroque in the East.
If you prefer a fully guided bike tour, we suggest the Baroque one. But remember that it only takes 4 of you to have both guided and self-guided tours departing on your preferred date. Please, ask for a private tour to our booking staff.
Guided Bike Tour in Sicily
---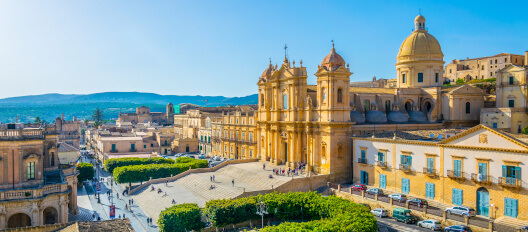 Sicily Baroque Cycle Tour
| Cycling & Food | Relax | Casual | Point-to-point |
The largest island in the Mediterranean Sea, and separated from the Italian peninsula by a narrow strait, Sicily is arguably the most captivating of Italy's twenty regions. One could spend a lifetime unpacking it. We'll explore the beautiful Baroque cities of Scicli, Modica, Ragusa, and Noto, then the luxurious Ortigia island, and we'll end our great tour climbing the Etna volcano and learning more about its amazing wine tradition.
2023-04-22 -> 2023-04-28 – From € 2650 per person
When is the optimal time to embark on a bike tour of Sicily?
As a Mediterranean island, cycling in Sicily is possible year-round. However, during the summer months, particularly in July and August, temperatures can soar to as high as 35C (95F) in the shade. Additionally, since Italian schools are closed during this time, tourism is at its peak, resulting in more vehicles on the roads. Nevertheless, starting early in the morning, avoiding the afternoon heat, and taking advantage of the long, bright evenings can make summer a viable option for a bike tour in Sicily. Of course, spring and autumn are the prime seasons for cycling enthusiasts to explore the island, while winter can be slightly damp and chilly, with temperatures rarely dipping below 5C (41F).
---
4 things you can't miss:
Etna volcano and volcanic Aeolian Islands
Homemade lemon ice cream
Greek temples
An aperitif in a sunny village square
3 books to read about Sicily:
Join us for a cycling adventure in Sicily.