Day 1: Benvenuti in Sardegna!
Set you up for starting the bike tour in Sardinia
Upon your arrival in Sardinia, most likely at Cagliari airport, we will meet you and then take a one-hour transfer to Torre dei Corsari. This location boasts one of the island's biggest beaches, complete with sand dunes that evoke desert scenery. Your first accommodation for your cycle tour in Sardinia is situated on a hill that offers a stunning vista of the beach and Sardinia's southwest coast.
Once you've checked in, we'll hold a briefing that covers the entire bike tour, providing day-to-day details. You'll receive our exclusive navigation system, guiding you throughout your journey. After a bike fitting, you can take a short ride to warm up. Finally, you can wrap up your day with dinner, perhaps at one of the restaurants on the beach.
Overnight:
Torre dei Corsari
Included:
Dinner
---
Day 2: From Torre dei Corsari to Buggerru
Pedaling through the Geo-Park of Sardinia
Our next leg takes us out of Torre dei Corsari and into the Costa Verde, which is among Sardinia's most stunning and untamed areas. This region has been defined by mining for centuries, and its legacy is preserved today in the Geo Mining Park. During your bike ride, you'll pass through abandoned towns like Ingurtosu and Montevecchio that appear frozen in time. A picturesque climb, surrounded by verdant landscapes, will lead you to the Arbus plateau. Then, after traversing the Bidderdi pass, you'll embark on an awe-inspiring descent to Buggerru, which is one of the emblematic towns of Sardinia's mining culture.
Overnight:
Buggerru
Included:
Breakfast
---
Day 3: From Buggerru to Sant'Antioco
From the mining history to the fisherman's culture
Today, our cycle tour in Sardinia takes us uphill as we bid farewell to Buggerru and make our way toward the hilltop. Here, we can capture a stunning panoramic view of the town, port, and beach, creating a memorable souvenir photo. Moving forward, we stop by Cala Domestica beach, once a mining port and now transformed into a charming cove, bustling with crowds during summer and offering a romantic escape in spring and autumn. Following a small path and tunnel carved into the rock, we arrive at the secluded "Caletta." Continuing our ascent, we climb on a few more kilometers before diving into a spectacular descent with a breathtaking sea view towards Masua. After a series of descents, we reach Fontanamare, a beautiful beach, and the bustling industrial town of Porto Scuso, where we indulge in some delightful ice cream. Our ride towards Sant'Antioco island, connected to the mainland since the Roman Empire, takes us on a cycle path for the last 10 km before we reach our final destination, the picturesque fishing village of Sant'Antioco, where we must enjoy a fish-based dinner!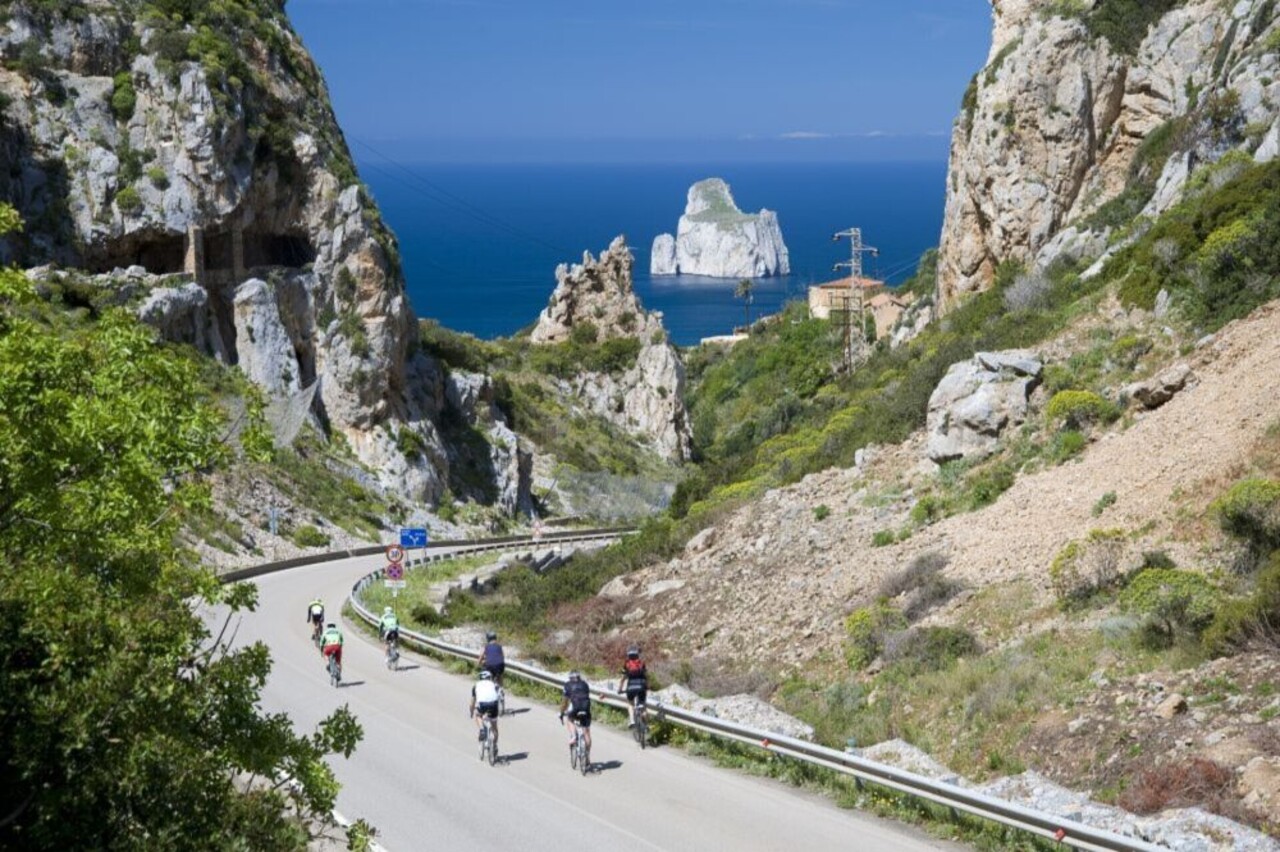 Overnight:
Sant'Antioco
Included:
Breakfast
---
Day 4: The loop of 2 islands
Discovering Carloforte and its culture
The two islands in Sardinia's southern region have distinctly different histories. Sant'Antioco has been an important city since the Roman era and shares its fishing culture with San Pietro and Carloforte, which is home to a community of Genoese origin. Our bike ride will start from the village of Sant'Antico, where we will cycle through the countryside to reach Calasetta, the other town on the island. From there, we will embark on a 30-minute ferry ride to Carloforte, taking in the picturesque scenery of saltpans with pink flamingos and roads overlooking the sea. Our bike tour of the island of San Peter will culminate with a delectable tuna-based lunch or the Cascà - a type of couscous with fish. After our return ferry ride, we will complete the loop by cycling towards the south of Sant'Antioco.
Overnight:
Sant'Antioco
Included:
Breakfast
---
Day 5: From Sant'Antioco to Teulada - Sulcis countryside
Pedaling in the peaceful countryside of Carignano grape
Our bike ride in the South of Sardinia starts by departing from Sant'Antioco island. After crossing the bridge to Sardinia mainland, we will be greeted by the scenic salt works with our riding mates, pink flamingos. We will stop in the charming village of Tratalias Vecchia, which revolves around the stunning Romanesque Cathedral of Santa Maria. Our route will lead us through the Sulcis countryside, where we will encounter artichoke fields and Carignano vineyards. The day will come to a close in Teulada, where we will stay in an Agriturismo (holiday farm) and have the opportunity to savor a traditional Sardinian dinner.
Overnight:
Teulada
Included:
Breakfast Dinner
---
Day 6: The amazing Costa del Sud
Cycling in a postcard landscape
Today marks the final leg of our Cycle Tour in Sardinia, and it promises to be a "Gran Finale". We will start our bike ride from Teulada, heading straight towards the coast, where we will traverse a scenic coastal road leading us to the tourist resort of Chia. The route presents breathtaking views of the sea, with hills that go up and down, and you will undoubtedly recognize some of the most renowned beaches in Sardinia, such as the Tuerredda. A photo on the beach and indulging in some ice cream is an absolute must!
Following our time in Chia, we will cycle toward Pula, the area's most significant town, where we will have the opportunity to marvel at the ruins of the ancient city of Nora. During the tourist season, Pula is a vibrant town with bars and restaurants, providing us with the perfect ambiance to celebrate the end of our remarkable bike tour in Sardinia.
Overnight:
Pula
Included:
Breakfast
---
Day 7: A day riding in Cagliari
Discovering the Capital of Sardinia
Your day trip in Cagliari starts by departing from your Pula hotel and taking a transfer to the heart of downtown Cagliari. From here, begin your ride toward the captivating Molentargius Park, also called Saline Park. The park remains a popular destination among the locals for indulging in sports, walking, cycling, and relaxation. Amidst the shades of flora, fauna, and gravel roads, you will forget that the city is around you.
The park boasts a unique characteristic of urbanized flamingos that exude confidence and elegance as they go about their daily lives, being photographed by tourists and locals.
The ride advances towards Poetto Beach, a lively spot bustling with colorful bars, restaurants, and entertainment throughout the year. You must take a mandatory pause here for a gelato or a light lunch by the beach.
Our journey at Poetto concludes at Marina Piccola, the city's tourist port renowned for its famous promenade. It provides a breathtaking panoramic view of the Golfo di Cagliari, with the city's symbol, La Sella Del Diavolo, in the backdrop.
We proceed with our tour, venturing to explore Cagliari's historic neighborhoods and take advantage of the bike path that leads from Poetto Beach to the historical center.
Overnight:
Cagliari
Included:
Breakfast
---
Day 8: Departure from Cagliari
Ciao Amici!
As your journey with us draws to a close, we're confident that Sardinia has left an indelible mark on your heart, and we look forward to welcoming you back soon in one of the Mediterras destinations. Following a delightful breakfast and a chat about your entire tour, we'll assist you with bikes and luggage and provide a shuttle to Cagliari airport, which is conveniently located just 10 minutes from the city center. Ciao amici, until we meet again!
Included:
Breakfast
---