Sardinia is not, among the Italian regions, the largest producer of wine, but here the culture of the vine and wine is an invaluable asset, intimately tied to our culture and our traditions.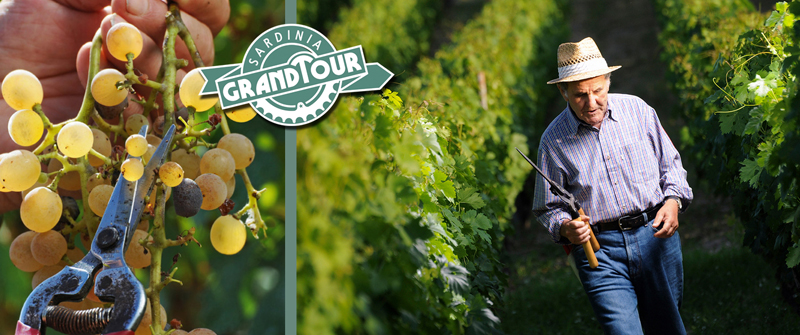 The production of Malvasia di Bosa is emblematic,  one of the smallest but most awarded DOC in Italy, that has always contributed to the development of the wine sector of the island, and still continues to do so.
To tell about this fascinating culture, we introduce you a small-scale production of high quality wine, carried out with great love and sacrifice, just for the joy of preserving their own heritage. We visit the vineyard and the cellar of Emidio Oggianu, a passionate and lively man of eighty, who has dedicated his life to cultivate and pass on the ancient art of the production of this noble wine.
To understand the excellence achieved by the Malvasia, you have to know people like Mr. Emidio and the significance of the wine to the social context of this corner of Sardinia: a precious symbol of hospitality, traditional festivals and special occasions, where to donate relatives and friends a distillation of his affection for this land.
"Surely if we let more bunches of grapes in the plant and we passed less time in the vineyard and in the cellar would be much easier but certainly we will be less satisfied"
Emidio Oggianu
The vineyard is close to the Sardinia Grand Tour itinerary, (Bosa-Santulussurgiu stage), but you can get even with the loop tours starting from our bike hotels in the area:
Characteristics of Emidio Oggianu Malvasia di Bosa DOC
Color: yellow gold
Aroma: bouquet long and dense, scents of privet and peach
Flavor: rich, smooth and full of personality. Even when consumed after years of bottling, it is never dry
Serving temperature: 18 ° C
Great sipping wine and dessert. It goes well with confectionery of almond, with foie gras and blue cheeses with long ripening or pecorino cheese at medium / long aging.
Media exam results of laboratory chemical / physical referring to the last eight years
 – Alcohol 17.13%
– Total acidity 5.03
– Dry extract 35.28
– Extract reduced 25.00