Salvatore Porcu is a shepherd in Bosa, Sardinia, he keeps alive this tradition and ancient art that is a lifestyle, in spite of those who are now converted to simple farmers and milk producers.
As I said he's a sheperd, and he does it a sa sarda (in Sardinian way): being so meticulous till the stubbornness, passionate and tireless, sometimes with uneconomic choices that seem incomprehensible and dictated by vagary, but the result returns the full sense of the whole.
Too often we (Sardinian people) forget it, but it's all in this inclination, which sometimes looks anarchic, the excellence of the Sardinian tradition.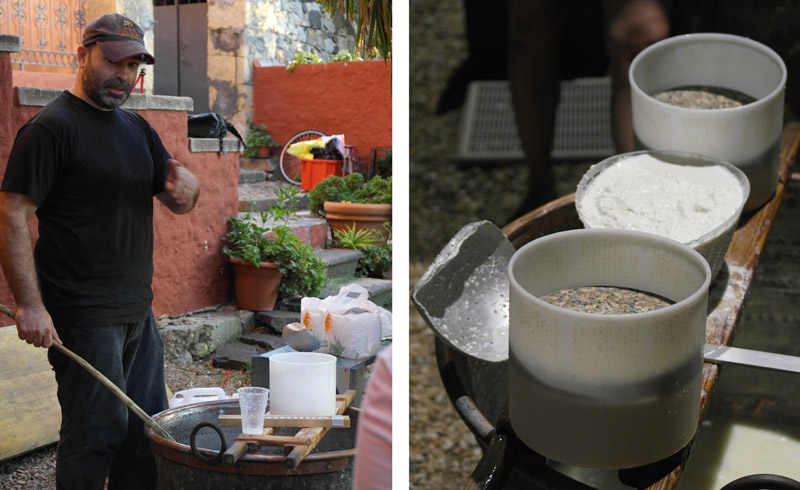 He divides his seasons between the two farms, one is Badde Orca in the mountains, and the other is located in Cape Marrargiu on the coast. Both are enchanting places exposed to the mistral, which are connected to each other by a short transhumance.
Accordingly with the work in the farm, he loves to share his knowledge with those who are discovering the roads of Sardinia Grand Tour. Last week, he has charmed a group of American cyclists, traveling with Ciclismo Classico, with the amazing ritual of tranforming milk into cheese. He brought the Labiolu (a huge couldron used to warm the milk) and all his tools,then he made for the guests two fresh pecorino cheese and ricotta, he had also delighted us with a mature cheese and a Casu Marzu, sardinian typical rotten pecorino cheese, in the charming garden of the Hotel Villa Asfodeli, of our dear friends Guglielmo and Maria Cristina.



Salvatore is a traditionalist, he still makes everything by hand, from milking till selling his own cheese, he selects the milk according to the different flowering and according to different pastures, and the "old flavor" cheese, as I said before, it returns all this care and dedication.
"If ever in 3000 years we do not have the memory of a death after eating cheese made traditionally, why we should have to adapt to the standards of the contemporary food industry, that kills more people than war? "
(Salvatore Porcu, Sardinian shepherd)